2023 Lexus GX460 Review

The Lexus GX is the epitome of what a large luxury SUV should be. It has always been built tough with only the finest materials being used in its cabin. Unlike most of its competitors, it has the distinction of being reliable and a vehicle that can outlast generations. Now, the 2023 Lexus GX460 also looks to have these quirks. The following is a review of its highlights:
Features
The GX460 2023 is a part of the 2nd generation of the GX series which was refreshed not too long ago. It features 4 excellently equipped trims, with a limited edition Black Line trim. It also features an engine worthy of a full-size SUV and several goodies to enhance the off-tarmac experience. The GX 2023 has a suite full of standard safety features as well.
Powertrain and Numbers
The 2023 GX460 is one of the few new SUVs that still offer the mighty V8 engine. It is a 4.6-liter that churns out 301 hp and 329 lb-ft. The power is sent to all four wheels thanks to a 6-speed automatic gearbox.
As a result, the 2023 Lexus GX is able to deliver a 0-60 time of 7 seconds. It is a quick vehicle for its size and weight. The 2023 GX also gets great towing and payload capacities of 6500 lbs and 1470 lbs respectively.
The fuel economy is also great for such a large engine. Reviewers have noted fuel economies up to 20 mpg .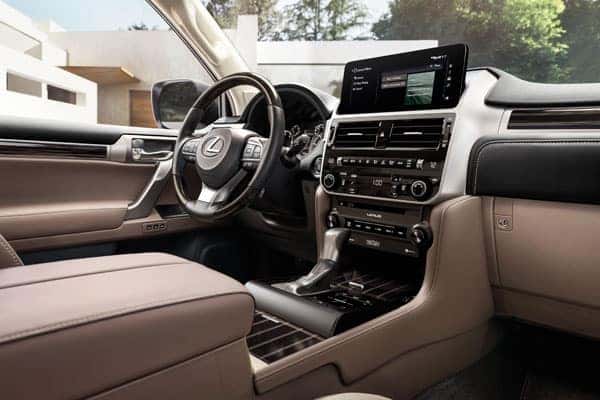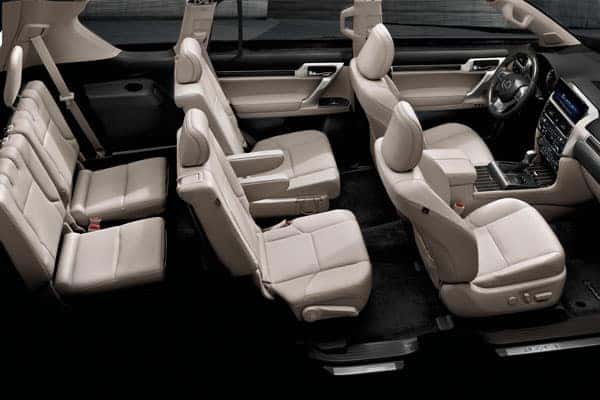 Interior and Technology
On the inside, you get a large cabin fitted with high-quality materials throughout in true Lexus fashion. All three rows of seats are built to maximize the space for the 6-7 occupants and the seats are comfortable.
The storage area is also decent for the category, with the second and third rows folding to increase it and provide a flat loading surface. The lift-up glass panel on the door can be lowered to reach the cargo area as well.
The following are the trim levels on the 2023 Lexus GX460 and their standard features:
2023 GX Base
As expected, the entry-level trim 2023 GX is quite handsomely equipped. The interior features a beautiful NuLuxe trim. The standard features include dual-zone climate control, push-button ignition, a powered moonroof, and 10-way power adjustable front seats.
You also get a massive 10.3-inch infotainment touchscreen with Apple CarPlay and Android Auto, plus a 9-speaker stereo and Bluetooth. Navigation and voice commands are also included in this model.
The standard safety equipment is also plenty. It includes automated emergency braking (w/pedestrian detection), lane-departure warning, adaptive cruise control, a backup camera, parking assists, trailer sway control, and blind-spot monitoring (w/rear cross-traffic alerts).
2023 GX Premium
The 2023 GX Premium adds even more goodies to the mix such as a Gray Sapele wood (w/aluminum) trim. On top of everything mentioned above, you also get more amenities such as tri-zone climate control, and heated seats (front ones are also ventilated). This trim also gets you more upgrades on the exterior and it unlocks some optional extras.
2023 GX Black Line Edition
The 2023 GX Black Line is an exclusive trim that's only available for 3000 GX models this year. Along with a deluxe NuLuxe trim, it gets you some more goodies such as a wood- and leather-trimmed heated steering wheel, a panoramic view monitor for all terrains, and more. It also gets you some exterior changes.
2023 GX Luxury
Finally, we have the GX460 Luxury which is pretty much a hotel on wheels. It gets you all the amenities mentioned above, plus semi-aniline leather upholstery, power-reclining/folding third-row seats, and a whopping 17-speaker premium stereo from Mark Levinson.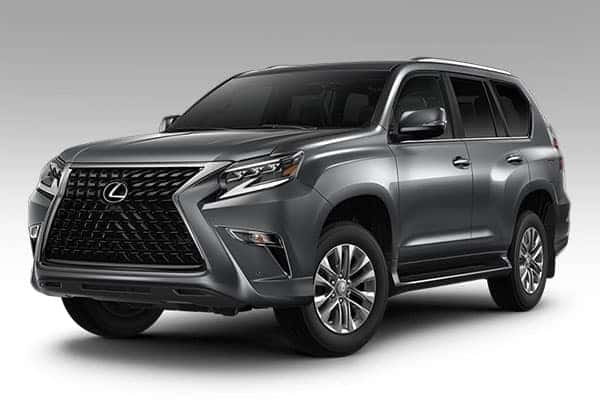 2023 GX Base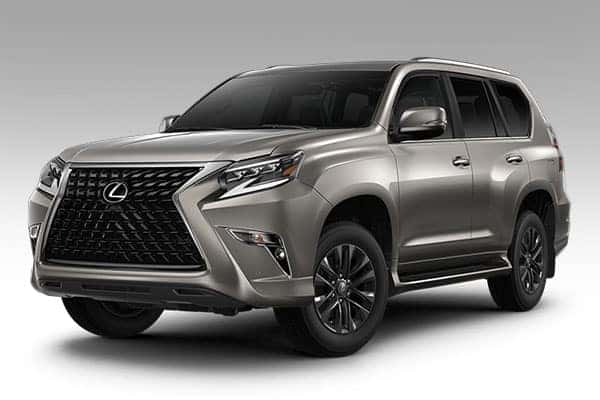 2023 GX Premium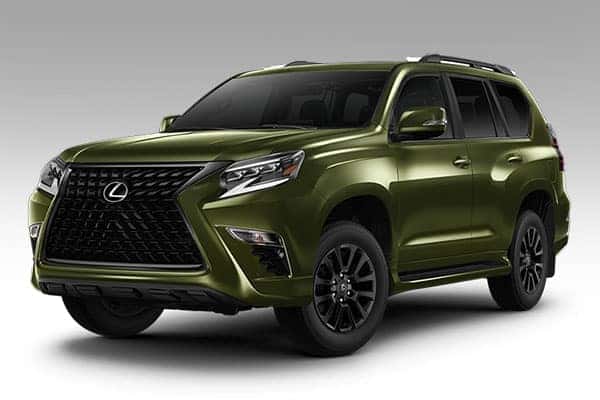 2023 GX Black Line Edition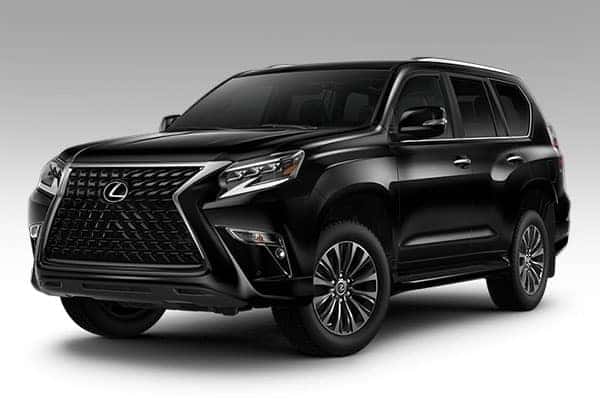 2023 GX Luxury
Exterior and Driving
On the outside, the 2023 GX460 looks as grand as ever. 18-inch alloys are standard and they can be found with various finishes. The Premium trim starts to make the GX460 even more sophisticated with its LED foglamps and rain-sensing wipers.
The 2023 GX Black Line Edition is the most unique with its custom front and rear valance design, foglamp bezel, gloss black wheels, black window trim, and dark chrome finishes on its grille and rear license plate.
The colors on the 2023 GX460 are the following:
Atomic Silver
Black Onyx
Caviar
Eminent White Pearl
Nebula Gray Pearl
Nightfall Mica
Nori Green Pearl
Do make sure to check which ones are available for the trim of your choice though.
The GX460 2023 feels like a very powerful car when you put your foot down. It has a very commanding driving position that gives you an excellent view of the road. The handling is also good as you don't feel like you're in a large SUV.
Of course, the highlight is the GX's amazing offroading prowess. It is based on the Land Cruiser Prado so it is unmatched off-tarmac except by its bigger sibling, the 2023 Lexus LX600. The Kinetic Dynamic Suspension and the modes for the different terrains add to its capabilities.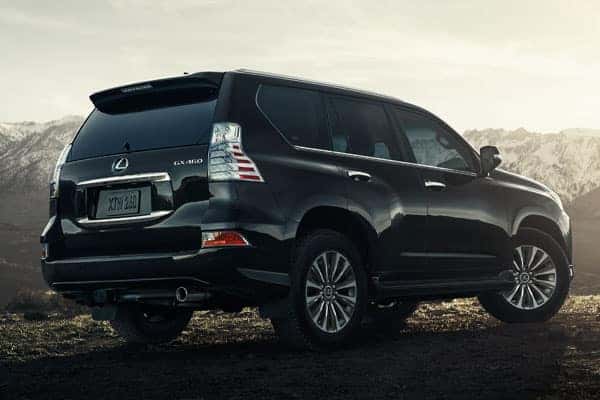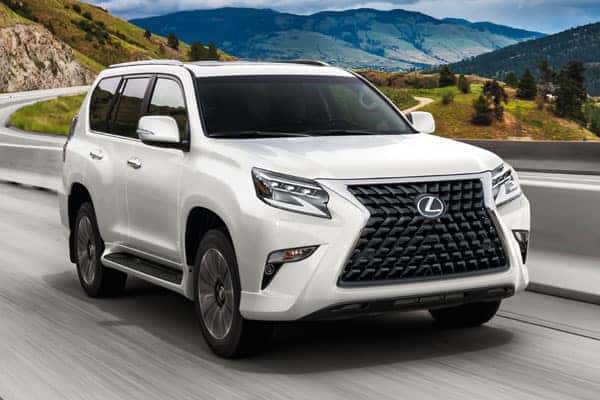 Reliability and Warranty
The 2023 GX460 has been given a score of 86 out of 100 by JD Power in predicted reliability. It falls into the organization's 'Great' category. It has even made it to the top of their 'best premium SUV' list. The GX is also one of the most reliable SUVs today according to Consumer Reports.
The 2023 GX has good warranties for the premium segment. You get 4 years/50k miles for the limited warranty and 6 years/70k miles for the powertrain warranty. Lexus is also one of the very few automakers to provide complimentary maintenance for 1 year/10k miles.
Verdict
The all-new GX 2023 is as solid and plush as ever. It is built tough with a lavish cabin, and the looks of a high-class vehicle that stands out everywhere. The list of standard amenities is top-notch on every variant available. The same goes for the safety equipment. They've also built it to conquer any terrain you could put in front of it and you get complimentary maintenance.
To get the 2023 Lexus GX460 in Fort Thomas OH, Fort Michel OH, and Highland Heights OH, check out Performance Lexus Rivercenter here.