2023 Lexus IS Review


The Lexus IS was introduced to be the entry point into the Lexus lineup. However, it became a vehicle with a cult of personality around it thanks to its high performance characteristics and functionality, plush driving environment, and unmatched comfort.
Its latest model, the 2023 Lexus IS, is available for sale and the following is a review of its highlights:
Features
The Lexus IS is currently in its 3rd generation that was refreshed back in 2021. It features 5 different trim levels for you to choose from, along with a set of killer engine options. The Lexus IS 2023 sees some changes to the F Sport models in terms of their appearance.
Powertrain and Numbers
The standard engine on the 2023 Lexus IS is a 2-liter 4-cylinder turbo that produces 241 hp and 258 lb-ft. It is offered on the IS300, and if you upgrade to the IS350, you can get a 3.5-liter V6 engine with 311 hp and 280 lb-ft.
Finally, you have the biggest and baddest of them all – a 5-liter V8 making 472 hp and 395 lb-ft. This one is available on the 2023 IS500 F Sport Performance. But what's expected in all the IS models is an 8-speed automatic that sends power to the rear wheels.
As expected, all three engines give you quite the power-to-weight ratio. Hence the 2023 Lexus IS can deliver stellar acceleration times. The shortest time to get from 0 to 62 mph is around 4 seconds. The V6 does a respectable 5.6 seconds while the 4-cylinder takes 6 seconds.
The 2023 Lexus IS allows you to step on it without worrying about fuel costs. The most efficient is the IS with the 4-cylinder turbo at 21 mpg city and 31 mpg highway. The V6 isn't bad either, at 20 mpg city and 28 mpg highway. The V8 also does a decent 17 mpg city; 25 highway.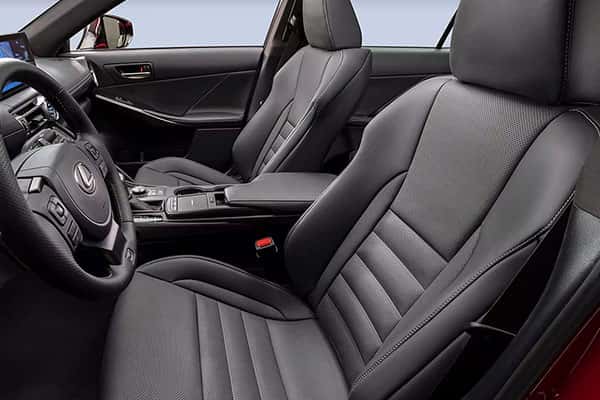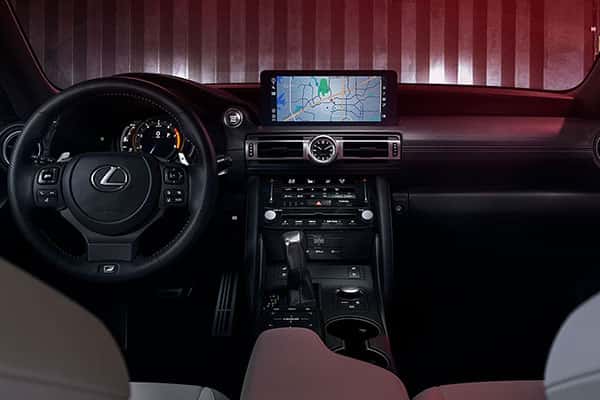 Interior and Technology
The 2023 Lexus IS features a stylish interior that's one-of-a-kind, to say the least. Its build quality has received nothing but praise; Lexus's choice of materials and colors has also been lauded. There's enough room for the compact sports sedan class to seat four occupants.
The trunk space is quite reasonable for the category as well. You can always increase it by folding down the rear seats. A notable feature is the height and width of the trunk which makes loading easier. The cubby storage won't disappoint anyone either.
The following are the trim levels of the 2023 Lexus IS and their standard features:
2023 IS 300
Lexus is one of the few luxury car manufacturers to offer more for less. The IS300 is proof of this as it comes with dual-zone climate control, push-button ignition, remote start (via app), and an electronic parking brake.
The front seats are 8-way power-adjustable. There's an 8-inch infotainment touchscreen that is compatible with Android and Apple devices. There are many more features available in the form of equipment packages.
There is also plenty of standard safety equipment. It includes automated emergency braking (w/pedestrian detection), lane-departure warning (w/lane-keeping assist), and adaptive cruise control.
2023 IS 350 F Sport Design
The 2023 IS F Sport Design makes some adjustments to the performance and exterior. On the inside, it adds heated front seats.
2023 IS 350 F Sport
This picks up where the F Sport Design trim left off and adds some niceties to the interior. These include F Sport accents, heated and ventilated seats up front, a 10-way power-adjustable driver's seat, and 4-way adjustable headrests. You also get a heated and leather-trimmed steering wheel, an auto-dimming rearview mirror, and a rear armrest (w/cupholders).
2023 IS 500 F Sport Performance
The highlight of the 2023 IS F Sport Performance is its powertrain but there are some interior add-ons as well. You get some more F Sport accents, a powered moonroof, and memory settings. You also get parking assists (w/automatic and rear-cross braking)
2023 IS 500 F Sport Performance Premium
The 2023 IS500 F Sport Performance Premium contains all of the above, plus a 10.3-inch infotainment screen, a premium 17-speaker sound system tuned by Mark Levinson, satellite navigation, and a panoramic view monitor.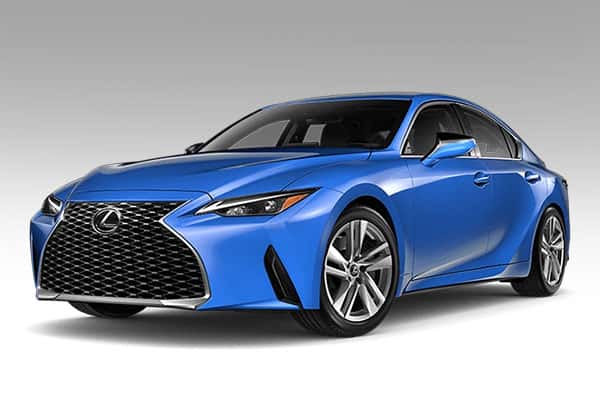 2023 IS 300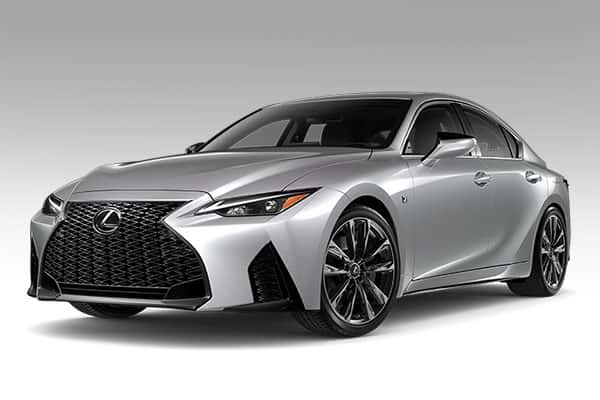 2023 IS 350 F Sport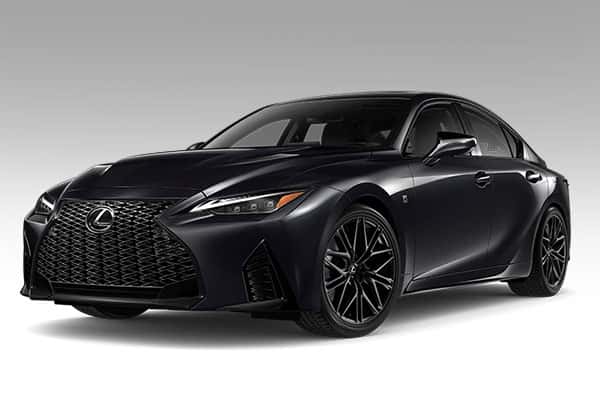 2023 IS 500 F Sport Performance Premium
Exterior and Driving
The 2023 Lexus IS has aggressive stylings which give you a good idea of how sporty it is. Apart from the IS300, you get F Sport badging on the bumpers, rear spoiler and valance, etc. The IS500 models come with a raised hood, 19-inch Enkei alloys, and triple-beam LED headlights.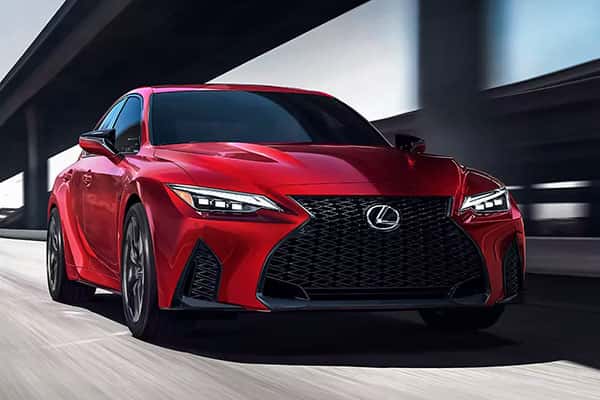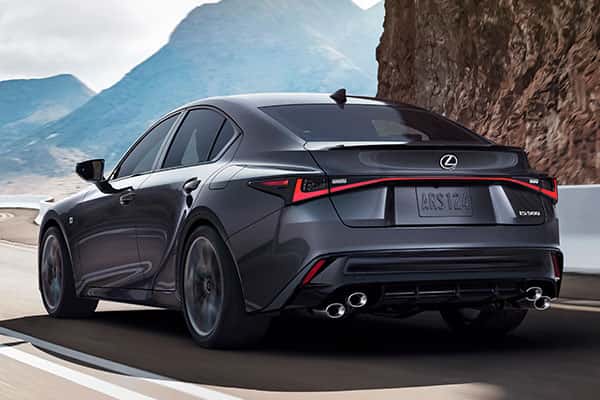 The following are the colors available on the 2023 Lexus IS luxury sedan:
Black
Red Mica Crystal Shine
Platinum Silver Metallic
Madder Red
Sonic Titanium
Graphite Black Glass Flake
Deep Blue Mica
Blazing Carnelian
Do check which ones are available for your trim though.
All of the 2023 Lexus IS testers have praised it in one way or another. It is fun to drive, great to handle, feels safe, and makes for a great daily driver. In true Lexus fashion, it offers a quiet and comfortable ride despite its high-performance capabilities.
Reliability and Warranty
JD Power has ranked the 2023 Lexus IS as the best compact luxury car on the market. It has received a score of 92 out of 100 in predicted reliability, putting it in the 'Best' category. Consumer Reports also expects it to be more reliable than its peers.
Lexus offers stellar aftersales which include a limited warranty of 4 years/50k miles and a powertrain warranty of 6 years/70k miles. These are two of the best coverage plans in the luxury car market today and you also get complimentary maintenance for 1 year/10k miles.
Verdict
We can conclude that the 2023 Lexus IS is the vehicle to have if you want a luxurious and reliable compact sports sedan that can also be driven daily. It is also quite stylish and is loaded with standard amenities. Lexus is also one of the few luxury automakers to offer complimentary maintenance for a limited period.
To get the 2023 Lexus IS in Fort Thomas KY, Fort Michel KY, and Highland Heights KY, check out Performance Lexus Rivercenter here.